About Fl Gold Coin Exchange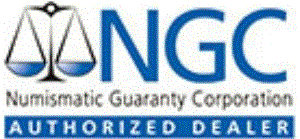 Fl Gold Coin Exchange was established by Alex Turchak who is CEO and a director of the company. Alex is a member of the American Numismatic Association and authorized dealers of the National Guaranty Corporation (NGC).
FL Gold Coin Exchange specializes in Foreign coins, medals and paper money. Our inventory includes hard to find rare world coins and banknotes and is updated on weekly basis. All the items we list are guaranteed to be genuine. You can buy with confidence as we have 14 day unconditional return privilege.
We also sell Investment Quality Gold, Silver and Platinum Bullion Coins and Bars in a variety of different shapes, sizes, and minted by several highly reputable producers. Premiums above the spot price of Gold/Silver/Platinum is much lower on bullion items than on numismatic, or rare coins.
We have been paying top prices for quality world coins, medals and banknotes. Please, contact us for current prices on nearly any precious metal product. We are also open for trading All purchases and sales are private to protect your confidentiality. Your information will never be shared with others.
When dealing with FL Gold Coin Exchange, you can rest assured that you are doing business with professionals, who have 40 years of experience in the industry.